The Library is open: Mon – Thurs 9-7, Fri 9-5, Sun Closed
Now open Saturdays 9 am – 1 pm!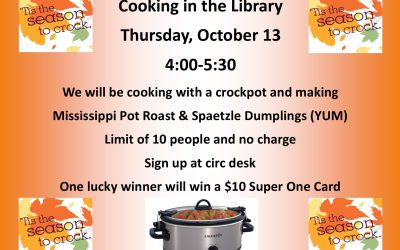 October 13 from 4-5:30pm, free event. Eat a crockpot masterpiece. Mississippi Pot Roast and Spaetzle Dumplings and you just might win a $10 Super One gift card. Register at the library.
read more
Request these favorites using you library card…
Park Falls Public Library
121 N Fourth Avenue
Park Falls, WI 54552
715-762-3121
Hours
Monday - Thursday 9-7
Friday 9-5
Saturday 9-1
Sunday Closed